The Ulman Cancer for Young Adults' 4K for Cancer Team Seattle recently rode through Lake Lillian, Minnesota. Their visit was chronicled by the West Central Tribune.
Here's a excerpt:
"College-age men and women, some of them still in the blue jerseys and tight black shorts they wore while riding from Minneapolis to the town south of Willmar, mingled with the residents of Lake Lillian and nearby communities who provided the food.
It was supper time for the 4K for Cancer riders, young people who are close to someone with cancer, and are bicycling from Baltimore to Seattle to raise money for programs that fight the disease.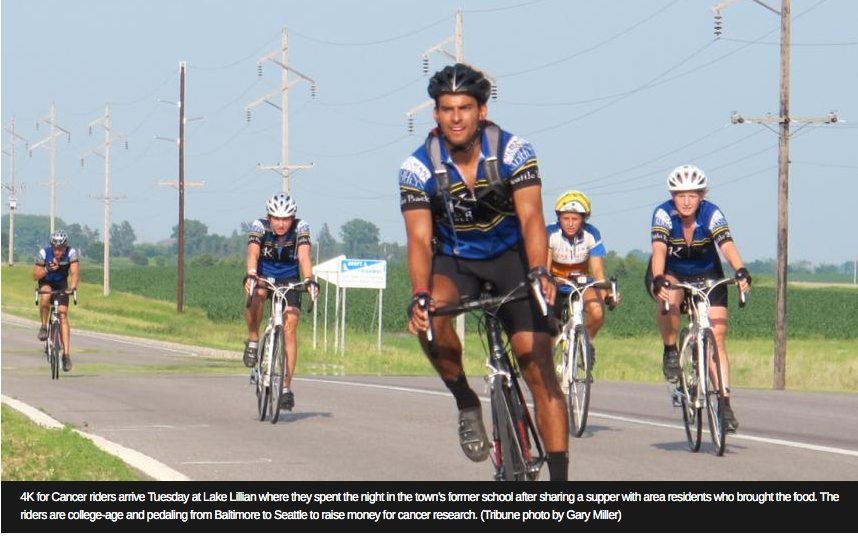 "I've heard some of them say this is the best stop of their ride," said Bev Kellogg of Bird Island. She rode her bike to Lake Lillian to see the riders pedal into town.
She stood by the school building entrance and clapped for each of the riders as they rolled their bikes in, flipped the two-wheelers over and stood them in a row on their handlebars in a long line along the entrance hallway."
– See more at: http://www.wctrib.com/content/bicyclists-raising-funds-cancer-welcomed-lake-lillian-minn#sthash.Lum4ati3.dpuf