The Ulman Cancer Fund for Young Adult's 4K for Cancer run team is set to arrive back in Baltimore on Sunday, July 14th at Federal Hill Park beginning at 2:00 p.m. Details can be found here.
The Baltimore Sun has been covering the journey of our runners.  Here's an excerpt for the latest piece:
"He has less than a week to go before he arrives in Baltimore and the finish of the Ulman Cancer Fund's inaugural 4K for Cancer run and Catonsville resident Kevin McClellan is exhausted.
McClellan, 21, has been running 12 miles almost every day since he and his teammates began their journey of more than 4,000 miles from San Francisco on June 15.
The trip will culminate with an arrival ceremony at 2 p.m. Sunday, July 14, at Federal Hill Park.
As of July 5, McClellan said he has been hampered by a host of injuries as his body struggled to cope with the daily stress of running nearly half the distance of a marathon every day.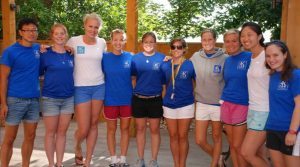 "Running is kind of hard at the moment," he added. "I've been doing walking days."
He said the daunting runs have taken a toll on his teammates as well, potentially affecting the outcome of their trip.
Despite injuries, McClellan said the group has been able to enjoy the trip and meet the trip's goal to spread awareness about cancer treatment."