When:
June 1, 2014 @ 7:00 am – 8:00 am
2014-06-01T07:00:00-04:00
2014-06-01T08:00:00-04:00
Where:
Baltimore's Harborplace Ampitheater
201 East Pratt Street
Baltimore, MD 21202
USA

Contact:
Stephen Hersey
410-964-0202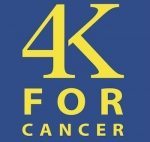 140 Young Adults To Begin Annual Cross Country Ride and Run
4K for Cancer Program Gives Young Adults the Opportunity to Fight for Local Communities in the Battle Against Cancer
Baltimore, Maryland – May 29, 2014 – The 13th annual 4K for Cancer bike ride will begin Sunday, June 1st at 7 a.m., as 113 cyclists dip their wheels in the Inner Harbor under the masts of the U.S.S. Constellation. Split into four routes, these cyclists will spend the next 70 days and 4000+ miles on the road raising funds and awareness in the fight against young adult cancer. Participants will finish their rides in Seattle, Washington; Portland, Oregon; San Diego, California; or San Francisco, California. In select cities on the journey, the cyclists will donate their time to support local cancer communities.
4K for Cancer is a program of the Ulman Cancer Fund for Young Adults (UCF). 4K cyclists seek to "Cycle/Run, Inspire, and Unite" as they raise awareness about cancer, provide community service to cancer organizations across the nation, and award 10 higher education scholarships along the ride and run routes to young adults affected by cancer. Scholarship winners have been selected through a prior application process.
The 4K program also includes a run across the country beginning in San Francisco, California on June 15th. The run will feature 27 young adults that will run in a relay format from The Golden Gate Bridge in San Francisco to Baltimore's Inner Harbor over the course of 42 days covering over 4,000 miles arriving on July 26th. Each day runners will run 8 two-mile segments with one of their teammates.
This year's program is the largest to date and is comprised of young men and women representing 87 colleges and universities within 21 states. There are 2 cancer survivors participating and this year the cyclists and runners have raised over $800,000 with a goal of reaching $900,000.
"4K for Cancer is a perfect example of young adults making a difference in the lives of their peers who are battling cancer," said Brock Yetso, President and CEO of UCF. "They are voluntarily giving up their summer, their freedom, their jobs, and putting their lives on hold over the course of the ride or run to help people they've never met overcome a terrible disease. Their dedication and selflessness is truly humbling."
Through a minimum personal fundraising commitment of $4,500 and donations collected along the route, participants raise money that directly supports UCF's Patient Navigation Programs. These programs offer comprehensive health services to young adult cancer patients, working in conjunction with multi-disciplinary medical care teams, social work staff, and other care providers. Since its inception at Johns Hopkins University in 2001, 4K for Cancer has raised over $3 million to support the young adult cancer fight.
For more information or to make a donation, please visit http://4kforcancer.org/, or follow the cyclists on Facebook and Twitter.
Media Contact
Rachel Wiederhold
Director, Human Resources & Operations
rachel@ulmanfund.org
Office: (410) 964-0202 x107
About Ulman Cancer Fund for Young Adults:
The Ulman Cancer Fund for Young Adults (UCF), founded in 1997, is the national leader in providing specialized support for young adults affected by cancer. With nearly 70,000 young adults diagnosed every year, our organization helps young people fight the disease and navigate treatment by providing access to information, support groups, and other specialized programs. UCF Patient Navigation Programs have set a national standard and can be accessed remotely or through onsite Patient Navigators at a growing number of hospitals in the Mid-Atlantic region. UCF changes lives by creating a community of support for young adults, and their loved ones, as they fight cancer and embrace survivorship. For more information, please visit, www.ulmancancerfund.org.
###
Click the link below to download the press release
4K Kick Off 5.29.14