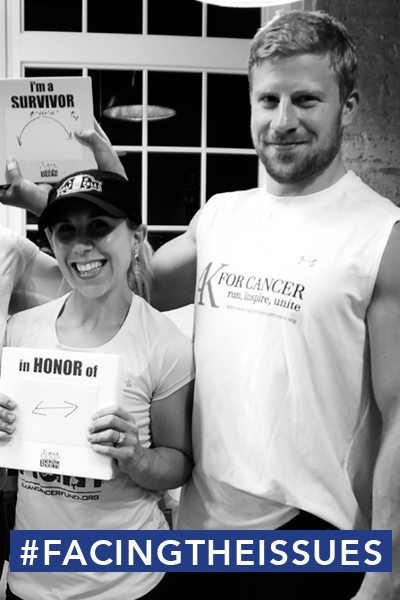 by Krissy Kraczkowsky, #FacingTheIssues
It was August 2005, when my husband Nate and I found ourselves standing at that lonely corner of "welcome to the real world" and "you have cancer". We were three months out of college, just over a month into our first post-graduate careers, and the real world still felt like unfamiliar territory to the both of us.
Right after Nate was diagnosed, I made a silent promise to both of us to keep things "as normal" as possible.
Yet, here we were, standing at that fateful intersection…in the pouring rain…without an umbrella.
We quickly learned that the real world did not slow down for cancer. It continued to march on and we had to keep pace while dragging a ridiculously heavy anchor.
Our situation was not unique. For young adults diagnosed with cancer, the world continues on…even if your own life feels like it is at a complete gridlock.
Right after Nate was diagnosed, I made a silent promise to both of us to keep things "as normal" as possible.
We would continue to have "Pizza Fridays" and "Movie Night Sundays". We would still go out with friends and have beers on Saturdays. We would continue to stay active – whether it was going for a run, lifting weights or continuing to play an intense, overly-competitive game of squash. We would find a constant that we could rally around in the midst of this cancer (and everyday young adult life) rollercoaster.
Movie Night Sunday was the first to go. Consistently exhausted, Nate could barely make it through half of a 90-minute flick (even when it was his choice) without nodding off.
Pizza Fridays stuck around until about Nate's second round of chemo. The bleomycin and cisplatin had kept his once ravenous appetite at bay and during his days in the infusion center, he had been sustaining on Lemonhead candy and yogurt. We came home on Friday and he was, much to my surprise (and excitement), pretty hungry. And a large Tutti Gusti white pizza was the perfect solution…or so we thought. Nate wolfed down seven of the eight large slices in record time. And just as fast as though slices went down…they came back up. For hours. We fell asleep in the bathroom that night. Thus, "Pizza Fridays" came to an end.
Beers with friends on Saturdays slowed down too – between his shoddy immune system, sheer exhaustion, chemo-brain, nausea, and the desire to avoid stares (especially judgmental ones!) from strangers, it became more stressful to go out than fun.
But staying active…that stayed with us. We would go for walks in Patterson Park or head to the gym to lift weights or play basketball. Even those intense squash matches stuck around (and while he may have lost his hair, Nate never let his cancer take away his competitive nature). It became evident that our constant was staying active – for physical benefits, but perhaps more importantly, for our mental and emotional health.
I liked to imagine that each bead of sweat during one of our workouts carried a little piece of stress, anxiety, fatigue, anger, sadness…whatever negative emotion had built up inside of each of us during his cancer treatment.
And while our exercise of choice has changed since Nate's cancer diagnosis nine years ago, staying active is still there. Whether we're running, swimming, squatting, Olympic lifting, rowing, burpeeing, wall balling, pull upping, or muscle upping, being active still remains our constant.
Tomorrow, our Baltimore City, Howard County, Montgomery County and Washington, DC Cancer to 5K teams will run their 5K goal race at the Baltimore Running Festival. Each survivor participant has their own reason for lacing up their running shoes and joining the program – whether they are in the midst of treatment or into that crazy thing we call survivorship. But no matter their reason, I hope all of them have found staying active as their own constant to help move them (literally!) through their cancer journey.
Krissy Kraczkowsky is the Sr. Director for Patient Navigation at the Ulman Cancer Fund for Young Adults. She and her husband Nate, a nine-year cancer survivor, live in Baltimore, MD with their three dogs (Daisy, Blueberry, and Polo). krissy@ulmanfund.org – Cancer Changes Lives…So Do We!