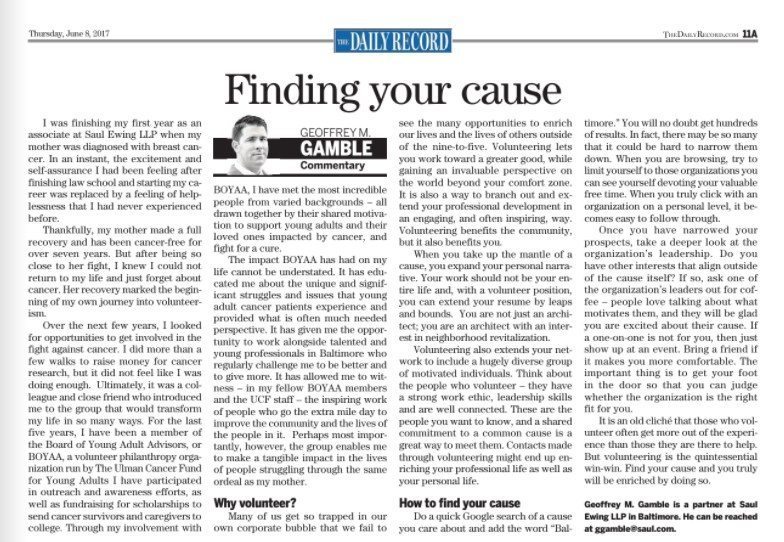 Geoffrey M. Gamble: Finding your cause
I was finishing my first year as an associate at Saul Ewing LLP when my mother was diagnosed with breast cancer. In an instant, the excitement and self-assurance I had been feeling after finishing law school and starting my career was replaced by a feeling of helplessness that I had never experienced before.
Thankfully, my mother made a full recovery and has been cancer-free for over seven years. But after being so close to her fight, I knew I could not return to my life and just forget about cancer. Her recovery marked the beginning of my own journey into volunteerism.
Over the next few years, I looked for opportunities to get involved in the fight against cancer. I did more than a few walks to raise money for cancer research, but it did not feel like I was doing enough.  Ultimately, it was a colleague and close friend who introduced me to the group that would transform my life in so many ways. For the last five years, I have been a member of the Board of Young Adult Advisors, or BOYAA, a volunteer philanthropy organization run by The Ulman Cancer Fund for Young Adults I have participated in outreach and awareness efforts, as well as fundraising for scholarships to send cancer survivors and caregivers to college. Through my involvement with BOYAA, I have met the most incredible people from varied backgrounds – all drawn together by their shared motivation to support young adults and their loved ones impacted by cancer, and fight for a cure.
The impact BOYAA has had on my life cannot be understated. It has educated me about the unique and significant struggles and issues that young adult cancer patients experience and provided what is often much needed perspective. It has given me the opportunity to work alongside talented and young professionals in Baltimore who regularly challenge me to be better and to give more. It has allowed me to witness – in my fellow BOYAA members and the UCF staff – the inspiring work of people who go the extra mile day to improve the community and the lives of the people in it.  Perhaps most importantly, however, the group enables me to make a tangible impact in the lives of people struggling through the same ordeal as my mother.
Why volunteer?
Many of us get so trapped in our own corporate bubble that we fail to see the many opportunities to enrich our lives and the lives of others outside of the nine-to-five. Volunteering lets you work toward a greater good, while gaining an invaluable perspective on the world beyond your comfort zone. It is also a way to branch out and extend your professional development in an engaging, and often inspiring, way. Volunteering benefits the community, but it also benefits you.
When you take up the mantle of a cause, you expand your personal narrative. Your work should not be your entire life and, with a volunteer position, you can extend your resume by leaps and bounds.  You are not just an architect; you are an architect with an interest in neighborhood revitalization.
Volunteering also extends your network to include a hugely diverse group of motivated individuals. Think about the people who volunteer – they have a strong work ethic, leadership skills and are well connected. These are the people you want to know, and a shared commitment to a common cause is a great way to meet them. Contacts made through volunteering might end up enriching your professional life as well as your personal life.
How to find your cause
Do a quick Google search of a cause you care about and add the word "Baltimore." You will no doubt get hundreds of results. In fact, there may be so many that it could be hard to narrow them down. When you are browsing, try to limit yourself to those organizations you can see yourself devoting your valuable free time. When you truly click with an organization on a personal level, it becomes easy to follow through.
Once you have narrowed your prospects, take a deeper look at the organization's leadership. Do you have other interests that align outside of the cause itself? If so, ask one of the organization's leaders out for coffee – people love talking about what motivates them, and they will be glad you are excited about their cause. If a one-on-one is not for you, then just show up at an event. Bring a friend if it makes you more comfortable. The important thing is to get your foot in the door so that you can judge whether the organization is the right fit for you.
It is an old cliché that those who volunteer often get more out of the experience than those they are there to help. But volunteering is the quintessential win-win. Find your cause and you truly will be enriched by doing so.
Geoffrey M. Gamble is a partner at Saul Ewing LLP in Baltimore. He can be reached at ggamble@saul.com.