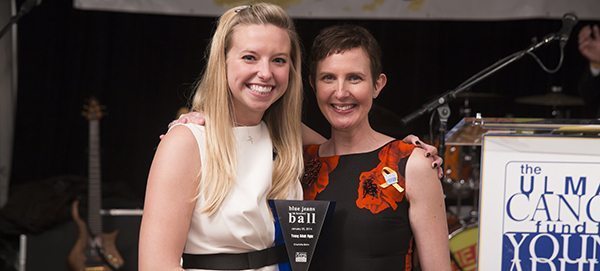 Laura Scruggs, UCF Program Manager-Mission Engagement congratulates Charlotte Bohn on her Young Adult Fight Award at the 2014 Blue Jeans Ball.
Charlotte Bohn is a Cancer to 5k alumni, a stage 4 colon cancer survivor, and a 2014 Blue Jeans Ball "Fight Award" honoree. As anyone would expect, cancer shook Charlotte's world but, unexpectedly, her experience wasn't entirely negative. Charlotte's cancer diagnosis had some positive effects on her life, one being her experience in the Cancer to 5k program here in Baltimore, MD.
"I was talking to a close friend of mine the other day about how I couldn't believe we had only known one another for less than a year. I met this friend during the Cancer to 5K program that I joined in March of 2013. When she and I met something clicked and since then our friendship has grown tremendously. I realized that  I gained so much more than I ever could have imagined from being a part of Cancer to 5K – friendships, confidence, strength, determination. The list could go on and on. I told this friend of mine just recently that I would never have started running if it hadn't been for cancer. I wouldn't  have been looking for a support system. I wouldn't have found Ulman. But I did. And once I had made that initial call to UCF, looking for some way to deal with and handle my cancer diagnosis, everything changed. Running became my way of coping and my way of taking control of my body and my fight back to a healthy state of being. Even after my recurrence in the summer of 2013 I continued to run and lean on the friends I had made during my Cancer to 5K season."
Charlotte is currently undergoing treatment, and with the support of her wonderful family, continues to stay active and stay positive. Watch the video below to hear more of Charlotte's inspirational story in our 2014 Blue Jeans Ball honoree video.
Cancer changes lives…so do WE!