Cancer Charity's East Coast Bike Ride to Leave Baltimore on April 5, 2014
Arriving in Key West, Florida on April 12
26 cyclists riding from Baltimore, Maryland have a goal of raising over $125,000 to help young adults affected by cancer through The Ulman Cancer Fund's Key to Keys Ride
 BALTIMORE, Maryland – February 28, 2014 – On Saturday, April 5th 38 cyclists and support staff from the greater Baltimore and DC region will meet in Baltimore at Race Pace, a local area bike shop, and set off on a journey over 1,500 miles to Key West, Florida. The ride, Key to Keys (K2K), has a collective mission, to raise awareness and funds to help young adults affected by cancer. Included in the group are 8 cancer survivors, but all have had cancer impact their lives either through their own diagnosis or that of a loved one. Each individual involved has a true passion for making a positive impact in the lives of others who have had to deal with this terrible disease.
"This is more than just a bike ride," says Brian Satola, Ulman Cancer Fund for Young Adults (UCF) COO. "We are making a statement about young adult cancer. With nearly 70,000 young adults being diagnosed with cancer every year, we want everyone to know that cancer impacts far too many people. Some on the ride know what it's like to face cancer first-hand and the rest of us know what it's like to help a loved one fight. The UCF was established so that no young adult has to face cancer alone and we want to spread that message of hope to all."
From Baltimore, the ride will travel through Virginia Beach, VA April 5-6; Wilmington, NC April 6-7; Charleston, SC April 7-8; Savannah, GA April 8-9; Jacksonville, FL April 9-10; Vero Beach, FL April 10-11; Homestead, FL April 11-12; and arrive in Key West, FL on Saturday, April 12, 2014. Along the route the K2K group plans to visit and distribute Chemo Care Bags at 5 cancer centers: Zimmer Cancer Center in Wilmington, NC; Hollings Cancer Center & Charleston Cancer Center in Charleston, SC; Nancy N & JC Lewis Cancer & Research Pavilion in Savannah, GA; and the Mayo Clinic in Jacksonville, FL. These visits provide the group opportunities to interact in meaningful ways with many people affected by cancer along their route. The group will also award a college scholarship to a young adult affected by cancer in Charleston, NC.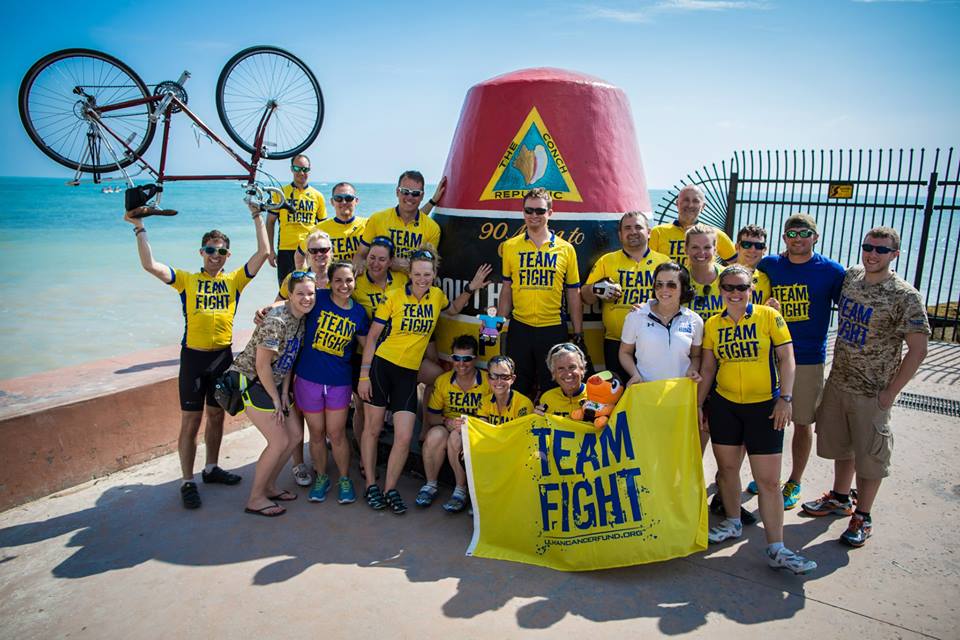 The money being raised by the K2K ride will continue to fund UCF's young adult patient navigator at the John P. Murtha Cancer Center at Walter Reed Military Medical Center.  The UCF navigator works in conjunction with the cancer center's multi-disciplinary team to assist young adult patients with managing their cancer experience effectively. This includes providing programs and support opportunities, fertility preservation guidance, financial assistance, counseling, and information and resources to help maintain a healthy quality of life with cancer.
Paul Lemle, a Non-Hodgkin's Lymphoma cancer survivor, 2013 top fundraiser and 2nd year Key to Keys participant commented, "I am thrilled to be riding to Key West with the Ulman Cancer Fund; in a way, I get a once-in-a-lifetime experience for a second consecutive year.  The fundraising achievement of placing a patient navigator at Walter Reed is our legacy. I couldn't be more proud of the goal to extend those services.  As a cancer survivor, I believe the effort to
improve outcomes for young adults will eventually turn the tide against this disease and lead to cures."
Over $105,000 has been raised towards a goal of $125,000. Donations are continuing to be accepted at: http://tinyurl.com/k2k2014
Follow the journey and join the conversation by using #K2K2014, following @ulmancancerfnd on Twitter, and liking https://www.facebook.com/keytokeysride on Facebook.
About Ulman Cancer Fund for Young Adults:
The Ulman Cancer Fund for Young Adults (UCF), founded in 1997, is the national leader in providing specialized support for young adults affected by cancer. With nearly 70,000 young adults diagnosed every year, our organization helps young people fight the disease and navigate treatment by providing access to information, support groups, and other specialized programs. UCF Patient Navigation Programs have set a national standard and can be accessed remotely or through onsite Patient Navigators at a growing number of hospitals in the Mid-Atlantic region. UCF changes lives by creating a community of support for young adults, and their loved ones, as they fight cancer and embrace survivorship. For more information, please visit, www.ulmancancerfund.org.
Media Contact Information:
Rachel Wiederhold
UCF Director, Human Resources & Operations
(410) 964-0202 x 107
# # #