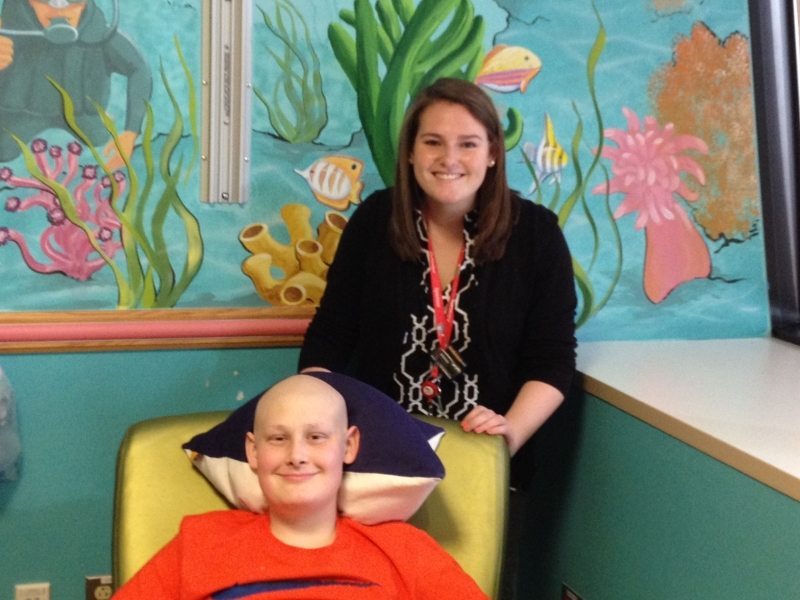 by Christiane & Allison Isaccson, #facingtheissues
When someone is given a cancer diagnosis, it affects the whole family. Christiane, the mom of 16 year-old David, shares her experience of being the caregiver of a teen with cancer and how her family's perspective has changed throughout their experience. 
This past year has been surreal. It began with my 15 year old son, David, being diagnosed with Osteosarcoma in his left fibula a week after his 15th birthday. At the time of my son's diagnosis I knew nothing about bone cancer – but enough to be scared to death. I think it is fair to say that a parent's worse nightmare is the fear of losing their child. David and I spent April through June in and out of the hospital for all of his chemo treatments. Late June he had his surgery which was followed by five more months of chemo. During the entire chemo treatment, I focused solely on David and keeping him as comfortable as I could. As he spent most of his time at the hospital sleeping, I would distract myself with work. I had to constantly push away the intense thoughts of fear that I might lose David, my beautiful son, who has always been such a loving child.
As you can imagine, I was beyond stressed out….The fear and anxiety that I had felt was just like before David was diagnosed, but this time it was back with a vengeance.
I think many people who have gone through some dramatic event in their life will tell you that they found out who their friends truly were in their time of need. The same happened to us. While my immediate family wasn't there for me, I had friends from as far away as Hawaii who would let me know that we were not alone in this fight against cancer. The staff at Children's National Medical Center became our family. Many of the nurses and Allie, our AYA Patient Navigator, were always happy to see us and made David feel special and cared for. They understood what he was going through and helped him deal not only with his physical pain, but also often with the emotional challenges that he faced in this fight. Over the course of the past ten months both of us had grown really close to several of the staff and I couldn't even imagine no longer having them there as support.
Needless to say, the weekend of David's last chemo treatment was bittersweet. We were very fortunate that most of our favorite nurses were working at some point during David's last treatment. This allowed us to thank them as best as we could, as they are truly David's Angels. In one way, it didn't even really hit me that this was David's last chemo treatment, even though my daughter flew in from college to help us celebrate, along with a few other friends. We went home and still it didn't hit me. I was told to keep our bags packed and ready to go in case David developed a fever so I washed all of our things and packed the bags. I was still on high alert and constantly watching David to see if he was getting sick. Finally, about two weeks later, I started to realize that the constant hospital trips and stays might be behind us; but then I had to worry about the first set of scans that David was scheduled to have post-surgery and post chemo treatment. This would be the first set of scans since just before David had his surgery in June. As you can imagine, I was beyond stressed out. It didn't help that the scans were done over the weekend, so I had to wait a day before getting the results back. The fear and anxiety that I had felt was just like before David was diagnosed, but this time it was back with a vengeance.
I finally received a phone call at 5 pm from both David's pediatric oncologist and his pediatric oncologist fellow. The great news was that the scans all looked great, however his chest CT scan showed some really tiny spots that everyone believed was nothing; merely residual from a cold that David had a few months prior. Nevertheless, to be cautious, they wanted the scan repeated several weeks later before they would request for David's port to be removed. I was relieved that the scans all looked great, but at the same time, disappointed that we would need to wait a few more weeks before the port could be removed. I had to remind myself that the most important thing was that David's scans were fine, and waiting another few weeks to get the port removed didn't matter at this point. It wasn't causing him any pain or discomfort. A few days later I felt like a weight had been lifted from my shoulders and all of a sudden I was completely and utterly exhausted. I could have slept for a week or more. Unfortunately, that is a luxury that I didn't have, as I had to keep moving and continue to help David adjust back into our new normal. I, too, had to adjust to being back in the office around co-workers who, despite all the best intentions, had no idea what the past year had been like.
Slowly but surely we are adjusting to a new norm. We are in life AFTER cancer…
So now, three months have passed and David just had another round of scans done. Once again, they all look great and I continue to thank God that David is doing so well.
Just like three months ago, I was absolutely stressed out when he had his scans done a week ago, but I have heard that this is quite normal. I am finally beginning to relax a little bit more, but always worry when David seems a bit more tired than usual. His hair is back and it is so soft to the touch. He has been back in school full-time for almost three months now and is even back to playing basketball. David still isn't where he was a year ago, both physically and mentally, but he is getting there.
Slowly but surely we are adjusting to a new norm. We are in life AFTER cancer and yet, we often get pulled back into the struggles of this past year, most notably regarding school. I often wish that his teachers and friends had a better understanding of what David has been through and how he continues to strive to get normalcy back into his life. David has always been a very academic student and is often very frustrated that he can't excel in school right now like he has done in the past. It is so frustrating for me that none of his teachers appear to acknowledge how well he is doing. I wish I could make David realize and embrace how truly amazing he is and how incredible it is that he is doing so well, yet he has set the bar even higher for himself. It just seems so unfair that after everything he has been through, he now has to fight academically.
We still drive down to Children's hospital twice a week for physical therapy, and though I know my way around like the back of my hand, it is no longer my second home. Sometimes David and I will pop in on the 4th floor to see if any of our favorite nurses are working, and trust me when I tell you that there are a lot of them. I found that everyone, from the doctors all the way down to the cleaning staff, was always super friendly and caring towards us. They are priceless people. So when I am feeling a bit overwhelmed with life or scared, I continue to pray and find strength from the great and supportive community we have via David's Caring Bridge website and beyond, knowing that David continues to get better each day.