An Interview with:
Elizabeth Saylor, MSW
Elizabeth Saylor, MSW, is the Ulman Fund Young Adult Patient Navigator at University of Maryland Greenebaum Cancer Center (UMGCC).
Majbritt Jensen, LCSW-C
Majbritt Jensen LCSW-C is the Clinical Social Worker for the Blood and Marrow Transplant Program at the University of Maryland Greenebaum Cancer Center (UMGCC).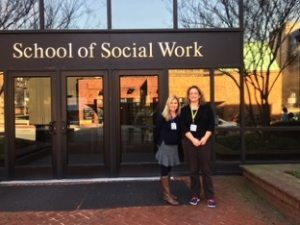 Elizabeth (Class of 2002) and Majbritt (Class of 2000) are pictured here in front of their alma mater, the University of Maryland School of Social Work.
Why did you want to become a social worker (and work with young adults impacted by cancer)?
Majbritt: I love to be of service and to help. Hearing the story of a person's life and witnessing the love shared between patients and their families enriches me daily. Oncology social work is a privilege. Oncology social workers are with people when their entire world changes the second the doctor says, "You have cancer." Being part of that journey is an honor. To help ease the burden of having a diagnosis in any small way is a blessing and as a social worker I can help do that. I love connecting patients to resources like the Ulman Fund, or LLS, having  food sent to a patient's home to help ease the stress on the caregiver, providing support groups and my favorite part is just being present and being a source of support during such a difficult time.
Elizabeth: Prior to social work I studied psychology.  These academic disciplines are closely related but social work puts a real emphasis on working from people's strengths, thinking about how an individual's environment shapes their behavior, and that ultimately, human beings know what is best for their own growth and healing.  At the time I was applying to graduate school I was a special educator in the Baltimore City Public School System.  I saw how simply diagnosing and labeling kids didn't achieve much change and really cheated children out of a chance to thrive.  I also witnessed the potential for success in helping communities act on the school, neighborhood and municipal systems in which they lived.  The social justice aspect of social work really appeals to me. The social workers who served on  the Special Education team encouraged me to apply to UMB, and I am so glad I did!
Growing up I knew  two social workers because I was their patient during my own cancer experience.  The first was marginal in her efforts to establish rapport with me and my parents, and offered few helpful resources or suggestions.  This was unfortunate given the fact that she was stationed at a children's hospital and could have made a huge difference in the lives of sick children, and one terrified and stressed-out 3rd grader.  The second was fantastic.  She was stationed at a large academic medical center where I received radiation. Working in an institution that was not at all geared towards children she sought creative and unique ways to make my experience easier.  She would play card and board games with me during the long wait times (imagine a waiting area filled with elderly, very ill cancer patients in wheel chairs and on stretchers) and strategized ways to ease my anxiety about being alone in the treatment room.  I am dating myself a bit here but she knew I loved Michael Jackson and so she secured a Walkman and a Thriller cassette tape that I could listen to.
What is the best part of your job as a social worker in the young adult oncology space?
Majbritt: The best part of my job as an oncology social worker is that I am reminded every day that things don't matter, status doesn't matter, all that matters is relationships and how much you have loved. Last year Elizabeth and I worked with a young man who passed away at age 24. He had a toddler, beautiful wife and devoted parents that stood by him through his long battle. Elizabeth and I went to his funeral service. Hundreds of people were there. In his short life that young man touched every person he met. When people stood up to talk about him, they talked about his kindness, and how much he loved his wife and son. At such a young age that young man left a mark on this world.
Elizabeth: Working with young adults who are living with cancer I witness daily the strength of the human spirit.  I mean this in the most genuine way.  I had cancer as a child.  It was not fun and I am sure dreadful for my parents.  But I didn't have the responsibility the patients I work with have.  I had no choice – someone always made sure I got to the hospital.
People are remarkable and young adults especially.  Dealing with cancer at any age is challenging but managing to get out of bed and show up for chemotherapy when you are trying to finish school, or start a new job, or get used to living with your parents again because you are too sick to live alone, or figure out how to comfort your young children who are scared you are going to die, or explain to a new partner why you need to cancel a date, or figure out how to pay your car bill with your limited disability check, now that takes real guts. Doing all of this while your friends are moving forward with the "normal" young adults stuff is just plain courageous.
What piece of advice would you give anyone interested in become a social worker?
Majbritt: Always be present. You will have 100 things you will need to be doing but when you are with a patient or their loved one, be present. Listen. Be with them in that moment.
Elizabeth: Social work is a wonderful profession and the MSW is a versatile, practical advanced degree.  If you enjoy interacting with and learning from other human beings this could be the right career path for you.  And I don't just mean learning from the patients.  I learn from colleagues like Majbritt every day. Her training is much more clinically focused while I am more of a macro practitioner. Majbritt knows how to rapidly but sincerely build trust with families that are about to go through transplant and this is a real skill.  
If you believe that the world- your country, city, neighborhood, block, or HOSPITAL! -can be a much better place, especially for those of us with the least resources, then I encourage you to pursue a career in social work.