March is National Social Workers Month!
Social workers help people identify, problem solve, and cope with challenges that they may face in their everyday lives. Typically, social workers help identify people and communities in need of assistance, assess needs and challenges of their clients, help clients adjust to life challenges (such as a cancer diagnosis or a family crisis), research and refer to specific resources to improve their client's well-being, and serve as advocate for their clients and their needs. Clinically licensed social workers also provide psychotherapy services, and diagnose and treat mental, behavioral, and emotional issues. Social can be employed in a variety of settings such as hospitals, schools, human service agencies, and private practices.
At the Ulman Cancer Fund for Young Adults, three of our Young Adult Patient Navigators have a social work background – Meghan Fitzgibbons, Alexandra Gubin, and Elizabeth Saylor. Our Young Adult Patient Navigators also work closely with other social workers within the hospital and community to support the young adult cancer population.
In honor of National Social Workers Month, we will be posting some interviews with our very own Patient Navigators as well as partner social workers at institutions about why they chose social work, what they love most, and advice for others pursuing a social work career.
The Ulman Cancer Fund for Young Adults wants to extend a sincere THANK YOU and THUMBS UP to all the social workers out there…especially those who work tirelessly to serve young adults impacted by cancer.
An Interview with:
Meghan Fitzgibbons MSW, LGSW
Meghan Fitzgibbons, MSW, LGSW is the Ulman Fund Young Adult Patient Navigator at Walter Reed National Military Medical Center's John P. Murtha Cancer Center.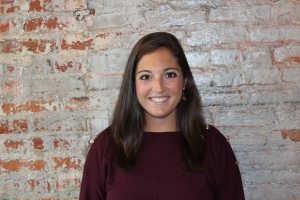 Why did you want to become a social worker (and work with young adults impacted by cancer)?
Having interned and then worked at the Department of Social Services in Charlottesville, VA and then having a social worker mentor and co-worker at Massachusetts General Hospital, becoming a social worker was sort of always on the table.  When I saw how versatile the role could be and how many different environments social workers could thrive in (particularly the hospital setting), I was sold.  I think that it's nearly impossible to find anyone who hasn't been touched by cancer these days – whether personally, or via a family member, friend, co-worker, etc.  When I started to learn about the unique challenges facing young adults with cancer, I was quickly drawn to this group of people and wanted to help improve their experiences.
What is the best part of your job as a social worker in the young adult oncology space?
It's such an honor to be with people from the first day or week of diagnosis to their last day of treatment, or their last day on earth.  My favorite part of this job is the reward and privilege of witnessing and supporting patients and families during some of their toughest times, where they can't even see it sometimes, but there is so much grace, faith, hope and humility all around me.
What piece of advice would you give anyone interested in become a social worker? 
Do it!  Social work has the potential to be one of the most rewarding careers.  Try to figure out the population and environment that are right for you because there is definitely something for everyone.