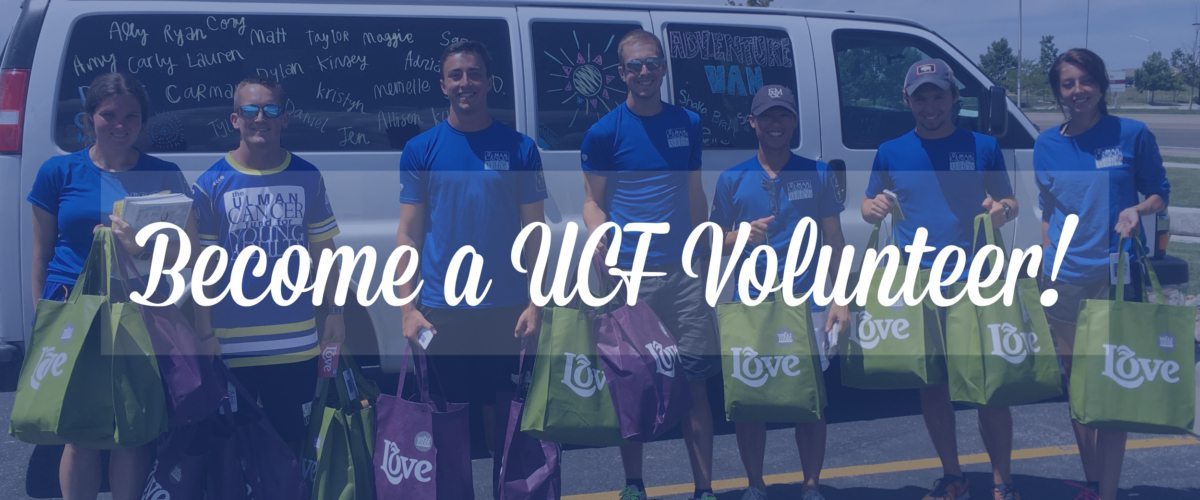 Volunteers
Volunteers play a pivotal role in providing support to the courageous young men and women and their loved ones fighting this devastating disease. We rely on volunteers to help us spread The Ulman Cancer Fund's message of hope and awareness for the young adult cancer movement.
Our volunteer opportunities require various skills, qualifications, and time commitments. If you are committed to enhancing lives by supporting, educating, and connecting young adults and families affected by cancer, consider volunteering with UCF!
If at any point in time you have a question or concern regarding volunteer positions at the Ulman Cancer Fund, please contact us at volunteers@ulmanfund.org (410)-964-0202 x113
Are you a tech-savvy master of photo, video or social media? Sign up to be a Multi Media Volunteer and help us capture the amazing things that happen within the UCF Community. Attend practices, events and meetups and help document our the work we do and the impact we have through media.
Requirements: Background managing various social media platforms i.e. Instagram, Facebook, Twitter, SnapChat. have reliable transportation and be able to attend various events throughout the Baltimore area
Volunteer to cook and deliver a meal to a patient while they are going through a tough time. Help to provide a little bit of comfort by getting a patient a home cooked meal!
Requirements: Must have reliable transportation and access to a kitchen, Dietary restrictions will be communicated as needed
UCF holds 25+ exciting events in and around the Baltimore area throughout the year, and they all provide incredible opportunities to give back and also network with other compassionate volunteers in the area. Volunteer can do anything from helping guests register at Blue Jeans & Bowties Ball to ring side assistance at Fight Night Baltimore, you can be a part of it. Volunteer at some of the best events and experiences Baltimore has to offer!
Requirements: May need to lift heavy objects and/or be on feet for several hours, have access to reliable transportation. *Some events require volunteers to be 21+.
Our 4K for Cancer send off weekend in early June is one of excitement, passion and inspiration! Volunteer and be a part of the action by assisting with set up, break down, and weekend logistics.
Requirements: Availability in early June. *Some positions require prior 4K experience.
The Ulman Cancer Fund for Young Adults' Holiday Gift Drive is a program supported by community partners, volunteers, and UCF's young professional group, the Body of Young Adult Advisors (BOYAA). Together, we collect holiday gifts for families with a family member going through active cancer treatment and experiencing financial hardship. After receiving referrals from our patient navigators and other local health care professionals, we are able to connect our donor group to local families in need.
As a group, company, family or individual, you have the unique opportunity to "adopt" a local family battling cancer to ensure they have a joyful holiday. Once you receive the wish list for your adopted family, you will purchase, wrap and deliver the gifts personally to the family's home.
Requirements: Access to reliable transportation, availability to deliver gifts at coordinated time, financial means to fund gifts for the family
Each spring we receive thousands of applications for our 35+ college scholarships.  We rely on dozens of volunteers to review and score each application to help select the final recipients.  Reviewing scholarships is highly rewarding and can be done right from the comfort of your own home or office. You will be provided with information to guide you as you make your evaluation. Review periods are one month and begin mid-March through mid-April.
Requirements: Access to a computer and time to carefully read and review our applicants 
Group Opportunities
These opportunities usually have a two week or less turn around as patient need arises. These opportunities can include yard work, house work, assisting with moving etc. Perfect an individual or group who is looking for a one or two time volunteer opportunity.
Requirements:Must have reliable transportation, adhere to HIPPA guidelines, Physical labor is often applies.
A perfect opportunity for groups who want to give back, you can set up a drive to collect magazines, puzzle books, travel sized toiletries for our patients in the house and in the hospitals to make their days a little brighter.
Coming Soon!
Volunteer at the UCF House Opening Fall of 2018:
We are looking for volunteers who are willing to commit to a minimum of one shift a week for at least 6 months. Looking for energetic and friendly volunteers to be the first face to face interaction with our guests as they enter the UCF House. Volunteers will assist with answering phones, taking reservations, welcoming guests, as well as helping out with tasks as they come up.
Requirements: Must be 18 yrs or older, once weekly commitment, must adhere to HIPAA guidelines
Group or individuals will be responsible for purchasing and preparing dinner for our house guests. Volunteers should arrive at 5:00PM to begin preparing the meal and mingling with the guests. This is a great opportunity to connect with families and patients and ease some of their hardship by preparing a warm healthy meal for them. Communal dinners also create an opportunity for guests to meet each other and volunteers.
Requirements: Under 18 yrs old must be accompanied by guardian, groups must be no larger than 10 people per night, dietary restrictions may apply, dinner volunteers will be scheduled 1 month out, must adhere to HIPAA guidelines
Stop by our house and set up an activity hour for our young adult guests and their caregivers. Activity hours can include crafting, exercise classes, or music lessons- we are open to creative suggestions! Volunteers may be responsible for purchasing necessary materials.
Requirements:
Under 18 yrs old must be accompanied by a guardian, commitment must be made at least one month in advance to be put on our guest calendar and confirm whether we can provide materials needed, must adhere to HIPAA guidelines.
Housekeeping volunteers will be in charge of cleaning and flipping rooms when guests check out. This includes cleaning all surfaces, stripping beds and remaking beds, and washing linens.
Requirements:
Under 18 yrs old must be accompanied by a guardian, once weekly or bi-weekly commitment required, must adhere to HIPAA guidelines
---
Join The Fight

---
If you can't give your time but would like to support any of our volunteer programs, consider following this link and making a donation! To learn more about what your money does to impact the Young Adult Cancer Community check out our progress reports!
Checks can be mailed to:
Ulman Cancer Fund for Young Adults Attn: (name of the volunteer program) | 1215 E. Fort Ave Ste. 104 | Baltimore, MD 21230.