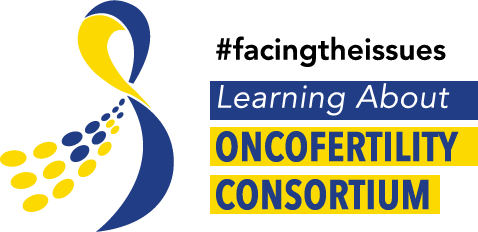 post by Meghan Fitzgibbons, #facingtheissues
Do you know about the Oncofertility Consortium?
First, you may wonder what "oncofertility" is – this term refers to an interdisciplinary field that combines oncology and reproductive medicine, expanding fertility options for cancer survivors.  The Oncofertility Consortium is an interdisciplinary initiative that provides information and resources to help cancer patients navigate the complex fertility issues they face.
On the Oncofertility Consortium website, you will find a vast amount of information for patients, health professionals, scholars, teachers and students.  One of the most helpful aspects for patients is the Fertility Preservation Patient Navigator website, which provides information regarding fertility preservation with an interactive patient decision tool, stories of patients who preserved fertility before treatment, and tutorials about preservation procedures.  The decision tool guides patients through the key factors that are considered when making decisions about fertility preservation, including sex, pubertal status, and disease stage.
Patients will find also find detailed descriptions of their fertility preservation options.  Women can learn about egg, embryo and ovarian tissue banking, as well as ovarian transposition.  Men will find information about sperm and testicular tissue banking.
MyOncofertility.org and iSaveFertility are additional resources provided by the Oncofertility Consortium.  At MyOncofertility.org, patients can find answers to their fertility preservation questions, guidance for talking with physicians about fertility, and assistance in locating a nearby fertility preservation specialist.  With the iPhone application, iSaveFertility, patients, parents, and partners can view educational pocket guides about fertility preservation for men, women and children from their smart phones.
Finally, the Fertline (866-708-FERT) is available to connect patients with a fertility preservation program and refer them for consultations or procedures.  Patient Navigator Kristin Smith walks patients and providers through all aspects of the process, explaining options for each case, working with oncology teams, and providing insurance and financial guidance to patients and families.
If you or someone you know is diagnosed with cancer, or you are a healthcare provider working in oncology field, the Oncofertility Consortium is a must-see, amazing resource.